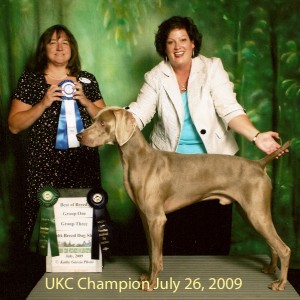 Nearly everyone thinks their dog is the best looking pup of the lot. This is doubly true for weimaraners. Their striking looks and graceful aristocratic build make them some of the most stunning dogs around. As it turns out the AKC has venues specifically for you to show off your prize pup! Conformation or dog shows are a venue at which a dogs characteristics are compared directly to the breed standard in the hopes that your weimaraner is closest to the "ideal" of the standard. There are other concerns involved in selecting and showing dogs. Temperament, health, and overall disposition are all important characteristics in the makings of a champion show dog. The WCNI offers several opportunities each year for members to show their dogs and earn points towards an AKC conformation championship. Our membership also has within it dogs, handlers, and even breeders of many different experience levels available to help you and your dog learn the ropes or to help you polish your presentation to finish up that title!
Check below for upcoming events.  We hope to see you there!
There are no upcoming events to display at this time.