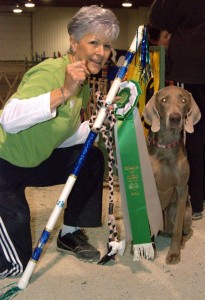 Weimaraners are by their very nature athletic and agile creatures. They also have a very strong desire to work with and please their owners. Agility offers an outlet for these traits to really shine. The WCNI holds several events throughout the year at which a dog and handler compete together to complete an obstacle course for both time and accuracy. The club also offers outlets within which one can learn more about the sport and even begin competing! Our membership also has within it many members ranging from those just starting out in the sport to a few that have achieved some of the highest titles the AKC offers for agility competition.
Check below for upcoming events!  We hope to see you soon!
Jul
22
Sun
WCNI Summer 2018 Agility Trial

@ Granny Rose K( Enrichment Facility
Jul 22 @ 7:00 am – 7:00 pm
WCNI Summer 2018 Agility Trial
Granny Rose K9 Enrichment Facility
613 River Lane, Dixon, IL 61021-8417
(Indoors on turf with padding, one ring 72.5 x 111)
Show Hours: 7:00 A.M. to 7:00 P.M.
Judging begins at 8:00 a.m.
Entries are limited to 350 runs per day. Entries to be determined by First Received.
**THIS EVENT IS ACCEPTING ENTRIES FOR MIXED BREED DOGS**
Entries open at 8:00AM on May 1, 2018.
.
Final closing date: June 29, 2018, at 6:00PM.
After which time entries cannot be accepted, canceled, altered or substituted except as provided for in Chapter 11, section 6 of the Dog Show Rules.
Trial Chairperson
Mary Cernak
28913 S. Gouger Road, Manhattan, IL 60442
(708) 826-2329 mjcern@msn.com
Trial Secretary
Jim Payne
1139 Mary Jane Lane, Beach Park, IL 60099
(815) 315-7649 entries@jpawsagility.com
Aug
23
Thu
WCA Agility Trial

@ Tennessee Livestock Center,
Aug 23 @ 8:00 am – 6:00 pm
Entries Open:
Monday, July 2, 2018 8:00 a.m.
Entries Close:
Monday, August 6, 2018 6:00 p.m.
Total Entry Limit:
700
Application Acceptance:
First Received
Breeds Eligible:
All AKC-Recognized Breeds
All American Dogs
For additional information contact:
Jane Mohr, Event Secretary
330 FRANKLIN RD STE 135A PMB 395
BRENTWOOD, TN 37027-2767
(615) 406-3380
agilitysecretary@gmail.com
Aug
24
Fri
WCA Agility Trial

@ Tennessee Livestock Center,
Aug 24 @ 8:00 am – 6:00 pm
Entries Open:
Monday, July 2, 2018 8:00 a.m.
Entries Close:
Monday, August 6, 2018 6:00 p.m.
Total Entry Limit:
700
Application Acceptance:
First Received
Breeds Eligible:
All AKC-Recognized Breeds
All American Dogs
For additional information contact:
Jane Mohr, Event Secretary
330 FRANKLIN RD STE 135A PMB 395
BRENTWOOD, TN 37027-2767
(615) 406-3380
agilitysecretary@gmail.com